The Spanish Language Department
Come, explore & learn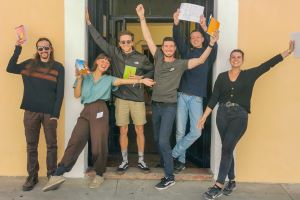 Whether it is for passion, to travel during a gap year, prepare a university exchange, improve your Spanish, investigate and write a thesis, study the Mayan culture, or simply get to know other ways of life, you will find in INEPAS the appropriate program that will help you in the realization of your project.
We also offer online classes.

Follow the guide.
Language immersion programs in Guatemala
How to choose your program?
Vouchers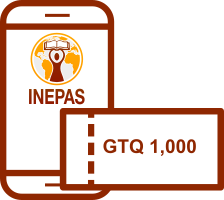 That is to offer to your relatives, friends/acquaintances or that is for yourself, because you are planning a travel whose date is difficult to determine exactly, you dispose of the possibility of buying vouchers which are valid for three years. These vouchers are transferable and are valid for our whole offer, including our online courses. They are not refundable.Click on the following
link
to look for the amount that better matches your expectations.
More information about...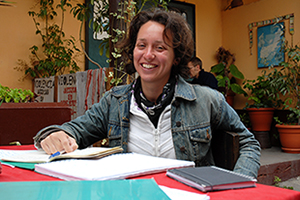 Study Levels for Everyone
INEPAS offers ten different study levels, ranging from Beginner to Advanced. Each level is designed and structured in a progressive system. To join the Beginner level, no previous knowledge of the Spanish language is needed. For the Intermediate or Advanced levels, the Beginner or Intermediate level must be previously approved through a placement test. Each level has its own evaluation which is optional.
The content of the program is varied, open and flexible, and the methodology adapts to the objectives, level of Spanish, rhythm and learning style of each student. Study hours are distributed between grammar teaching, oral and written exercises, conversations about daily life and discussions about social, political, economic and cultural reality of Guatemala and Latin America, always with emphasis on vocabulary and specialized expressions, according to the profession or interest of each student.
Each level takes a week of study for any student, which means that a Spanish student at INEPAS completes the entire course in an average of 10/12 weeks, studying 5 hours a day. However, it should be taken into account that each student learns at their own pace and speed. At all levels, personalized teaching is guaranteed and in a context that favors the exchange of cultures.
Obviously, the student is evaluated every week to verify if (s)he is able to advance to the immediate higher level or to make a previous reinforcement, which is done in common agreement with the student and the teacher.
Evaluations are realized through dynamic and creative dialogues, including reading comprehension, listening comprehension and expression and interaction activities (written and oral). Finalizing the course, students receive a DIPLOMA that accredits the Spanish level and the grammar content studied.
INEPAS aims to keep the student with the same teacher week by week. This way the teacher knows exactly what areas to study and what the student needs to improve on. However, if a student wants to change his or her teacher for the following week, this is possible in consultation with the administration.
Backed by more than 25 years of experience, INEPAS offers specific and specialized courses to satisfy communication needs of travelers, tourists, volunteers, retirees, entrepreneurs, diplomats, students and professionals of all degrees or professions.
Our content guide by grammar levels EQUIVALES the new level systems of the Common European Framework of Reference for Languages ​​(CEFR) and the curriculum of the Instituto Cervantes.
Reference levels
INEPAS
Common European Framework
of Reference for Languages (CEFR)
Beginner:
I - II - III
A1 - A2
Intermediate:
I - II - III
B1 - B2
Advanced:
I - II - III - IV
C1 - C2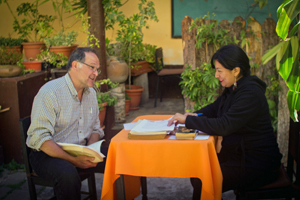 The Spanish Language Department
INEPAS is located in the historic city centre of Quetzaltenango, an ideal place for our students to learn the Spanish language while discovering and experiencing the culture, traditions and reality of Guatemala. The Spanish schools in Quetzaltenango are considered to be amongst the best and most economical throughout Latin America.
Since 1994, INEPAS has received students from all over the world. During this time, it has maintained the highest of tuition standards, with the purpose of effectively teaching one of the world's most widely-spoken languages.
INEPAS is smaller in size than many of the other Spanish schools in Xela meaning that the students and teachers get to know one another quickly, creating an intimate family-like atmosphere. We supervise the studies of each student, ensuring that the teacher follows the study program laid out by the Department.
More info about Quetzaltenango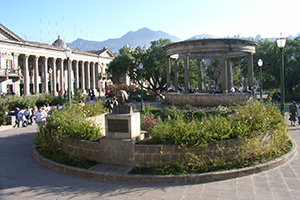 Quetzaltenango (Xela)
Situated 140km from the Mexican border and 230km from Guatemala City, Quetzaltenango or Xela, as it is more commonly known, is surrounded by the spectacular mountains and volcanoes (some active) of the Western Highlands, giving it an altitude of 2,300 meters above sea level. Although the second biggest city in Guatemala, Xela is not considered a particularly fast-paced city, and its small centre offers our students everything that they need, including restaurants, cafes, bars and very cheap internet access.
Quetzaltenango is the native home of many different Indigenous Peoples, predominantly Quiche and Mam, who heavily populate the region today.
Despite what Xela has to offer the tourist, (volcanoes, hot springs, authentic markets and Mayan towns) it has not become a habitual destination for travellers, unlike other Guatemalan cities, such as Antigua or Panajachel. This is an advantage to our students, as they are unlikely to be met with English-speaking inhabitants and being obliged to use the Spanish language in every aspect of daily life, they will progress more quickly in their learning.
Activities: activate your Spanish!
INEPAS offers its students different activities each week, from Monday to Friday. These include: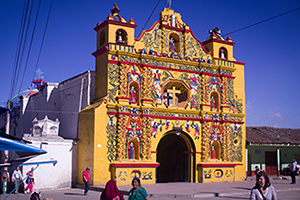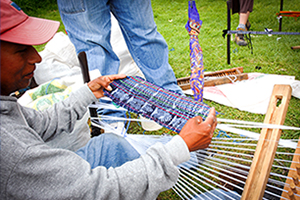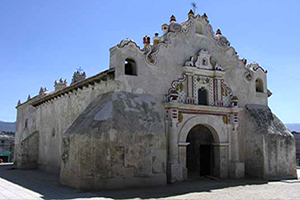 Visits to places of cultural interest in and around Quetzaltenango, in order to gain a better understanding of the history, the customs, traditions and way of life of the people, e.g. textile factories, markets, churches, etc.
Excursions to places of tourist interest, e.g. mountains, thermal fountains and natural saunas.
Films and documentaries of political, socio-economic and cultural interest.
Conferences and lectures covering a range of interesting topics.
Grammar workshops, sports and international cooking evenings.
Note: Participation in the weekly activities and excursions is optional and free (with the exception of personnel expenses: such as transport, entrance fees, drinks and food).
Accommodation
INEPAS offers its students three different accommodation options:
1) Live with one of our home-stay families locally
The families provide private rooms and three meals per day, seven days a week. All have showers with hot water. Each family has-been carefully chosen by INEPAS appropriate to meet standards for our students. However, please take into account that living with a family home is not the same as staying in a hotel or hostel, and it is important that every student recognizes the conservative character of the family and treats its members with respect.
2) Live in an apartment
Here is our recommendation, a very quiet and well-equipped place at a 10-15 minute-walk from the school:
For one week or more.
Former recommendations constitute trusted places; they do not belong to INEPAS.
3) Take your lunch with a local family, living in an apartment
You have decided to live in an apartment, but would like to share the lunch with a local family.
See Option 2 for the apartment or book your own one.