INEPAS Social Aid Department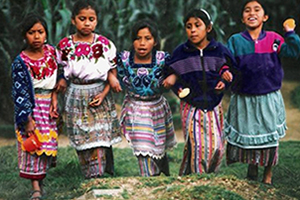 Philosophy
Since its foundation in 1994, INEPAS has considered it very important to work with rather than for the impoverished Mayan communities of Quetzaltenango. As a social service institution, we have the philosophy that our primary role is to motivate, guide and educate them towards self-management. Communities do not simply receive and depend on our help: they use it to develop the capacity and knowledge to make their own decisions on ways in which to improve their situation.
In this way, INEPAS acts as a source of social support for people in need, rather than a source of financial help that only provides short-term aid. Our aim is to broaden the ambitions of individuals, families and communities in order to sustain the support we give for generations to come.
History and first projects
The major social project that INEPAS undertook during its first years (1994-1998) was the financial and administrational support for the foundation and construction of a rural school in the Maya-K'iché community of Choquiac in the municipality of Cantel.
INEPAS worked alongside a French association called ASEPAS, the organizations in conjunction raised funds to cover various expenses of the project, such as teachers' salaries, teaching resources, purchase of the land, construction of the school, and the cost of all the administrative proceedings necessary for the school to be officially recognized and supported by the Guatemalan State. In 1997, INEPAS handed over all the economic responsibility for the running of the school to the State. However, the school has remained self-governing and has educated over 800 children from this community each year.
A documentary was produced about this project, partly financed by UNESCO, and was broadcast in numerous countries as an example of a successful community development project.  (view documentary) 
In 1998, INEPAS received official recognition from UNESCO and became a self-sustaining non-profit organization recognized by the Guatemalan State.
During its years of existence, INEPAS has successfully proven that in Guatemala's current socio-economic, political and educational situation, a small organization with limited economic means can facilitate a significant degree of development within disadvantaged communities. Our various programs and projects have had a positive impact and have demonstrated sustainable and lasting results.
Participants:
María Antonieta Ixcoteyac Velásquez, Guatemalan PhD in social investigation, co-founder and General Co-ordinator of INEPAS, is responsible for the running of the Social Aid Department. She reports to the Board of Directors composed of Guatemalan professionals, whose purpose is to assess and monitor the development of the institution and its social projects.
The Social Aid Department also includes professionals from Guatemala and abroad who volunteer their time, support and experience in order to develop programs in the best possible way.
From 1998, the Social Aid Department has been made up of three social aid programs, all designed to actively support the impoverished communities of Quetzaltenango. These were: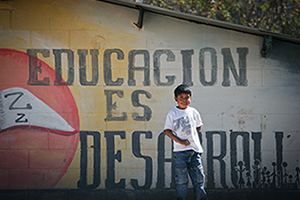 Background:
The Education Support Program was introduced in 1994, and was one of the main social aid programs of INEPAS. This program was created in light of the (still current) serious socio-economic limitations of the Guatemalan educational system, which cannot meet the basic educational needs of the population. Only 55% of children in Guatemala attend primary school of which only 19.5% go on to receive secondary education. Illiteracy in rural areas is still an overwhelming reality. Instead of continuing with their studies, a child of twelve usually begins a life of work, helping in the house or in the fields. Although many families would like their children to have an education, they simply cannot afford it: a child's income from labour is essential to the family's economy.
Objective:
To give educational support to children, teenagers and adults who were either having problems learning in school or had no access to education whatsoever.
Contents of Program:
The Education Support Program had carried out a variety of different activities and programs including: tutoring classes for children and teenagers with learning difficulties, a night school for teenagers who worked during the day, and the initiation of a self-sustainable rural school in a Maya-K'iché community. Later, this program was divided into two projects:
The Scholarship Project (2001):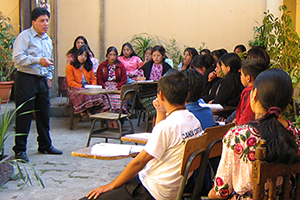 In an attempt to reduce the number of teenagers that either dropped out of or did not attend school, INEPAS provided scholarships to selected students. Foreign citizens were invited to sponsor school students that came from families of scarce economical resources in the rural communities of Quetzaltenango. The sponsor´s financial contribution secured a teenager's secondary education or enabled an older student to receive further education.
The role of INEPAS in this project was not limited to distributing sponsor money and maintaining contact between sponsor and student. INEPAS mentored the group of young people, complementing their education with workshops and activities which helped them:
In their personal development, dealing with themes such as self-esteem. Some of these young people had suffered the abandonment of a father or mother, or had lived with the experience of domestic violence.
In their social behaviour, dealing with various themes.
In their studies, with workshops on motivation, spelling, reading, and themes of social, cultural and political interest.
Once a month, whole-day or whole-afternoon sessions were organized with the young people. These sessions were directed by María Antonieta, who was sometimes accompanied by national or international volunteers.
The Computer Laboratory Project (2002):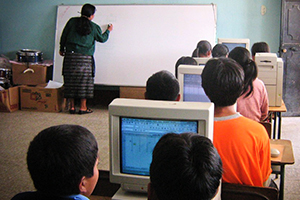 The most recent project of the Education Support Program was the implementation of 31 Computer Laboratories, located in 30 rural communities around Quetzaltenango. The installation of the Computer Laboratories was carried out in collaboration with a Non-Governmental Organization based in Oregon, USA, called Compañeros en Solidaridad.
Each IT Lab had 30 to 35 computers, which were located in public rural schools. This program had benefited more than 6000 students.
The Computer Laboratory Project was created with 3 main objectives:
To facilitate the access to technology and training in the most important aspects of computing by the children and young people of rural areas, with the aim of closing the digital gap.

To use the laboratories to motivate students to attend school and learn, thus reducing the rates of school absenteeism and desertion.

To train teachers in technical maintenance of the hardware and provide working knowledge of the software.
Background:
This program was introduced in 1998 as a result of the social and legal problems observed while working with rural communities. INEPAS had found that aside from educational issues, there was also a great need to support families in reducing recurring problems such as domestic violence, alcoholism, lack of self-esteem, abuse of human/employment rights and poor nutrition and hygiene.
Objective:
The identification of problems which could affect the development of the family and the community. Above all, it was aimed at creating an awareness of the social problems which could be prevented or resolved.
Contents of the Program:
The Social Support Program:
Types of support provided included: identification and recognition of family problems, home visits, individual meetings, community meetings and reconciliatory meetings. Advice workshops had also been given with the aim of promoting women's rights, basic individual rights and advising on protection against domestic violence. In cases which involved individuals or families in extreme poverty, INEPAS tried to support them in any way it could, by applying for or acquiring aid from public institutions, financing medical costs or consultations at a reduced fee, or by donating basic necessities.
The Legal Support Program:
Advised people in need of legal assistance on how to exercise and defend their rights effectively and fulfil their legal obligations. The cases most frequently dealt with concerned domestic violence, often involving people who only spoke K'iché (a native Mayan language). INEPAS was able to advise and accompany these people, to ensure they were treated fairly and obtained a proper hearing in a court of law if necessary.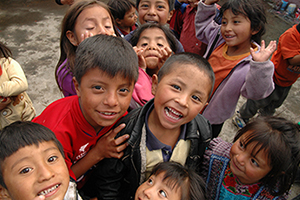 Background:
In 2001, INEPAS began to support various Community Nurseries (Hogares Comunitarios) in the region of Quetzaltenango.
The majority of children in rural areas did not have access to primary education for economic reasons: it was not provided free of charge by the State. The Hogares Comunitarios came into existence as an affordable alternative to primary school and a place where children from one to seven years of age could be cared for during the day, while their parents were working.
Each Hogar Comunitario was located in a private rural home. In most cases, the mother of this home became the Primary Carer of the children. She was responsible for looking after 10-12 children from Monday to Friday. Although the government covered all running costs of the home (food, water, gas etc.), she received very little salary for her work.
Objective:
To support the improvement of conditions in the Hogares Comunitarios.
Contents of Program:
INEPAS provided:
The professional advice of psychologists, social workers, doctors, education experts and solicitors.
Essential teaching and medical materials.
Volunteers to work in the Nurseries, for example as teachers, social workers or doctors.
INEPAS also arranged meetings and workshops for the parents of the children on the responsibilities of parenthood, covering issues such as good behaviour and the importance of hygiene.
Current Programs & Projects
After more than 25 years of activity, INEPAS is currently in a decisive process of evaluation of its work, a process that leads to the extension of the institution in order to develop new projects, not based on the past, but on the current needs that lead into the future.