The Spanish Language Department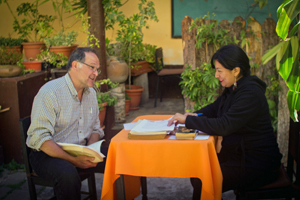 INEPAS is located in the historic city centre of Quetzaltenango, an ideal place for our students to learn the Spanish language while discovering and experiencing the culture, traditions and reality of Guatemala. The Spanish schools in Quetzaltenango are considered to be amongst the best and most economical throughout Latin America.
Since 1994, INEPAS has received students from all over the world. During this time, it has maintained the highest of tuition standards, with the purpose of effectively teaching one of the world's most widely-spoken languages.
INEPAS is smaller in size than many of the other Spanish schools in Xela meaning that the students and teachers get to know one another quickly, creating an intimate family-like atmosphere. We supervise the studies of each student, ensuring that the teacher follows the study program laid out by the Department.
More info about Quetzaltenango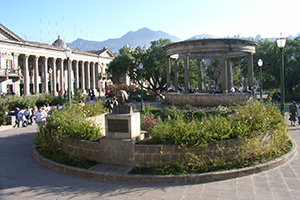 Quetzaltenango (Xela)
Situated 100km from the Mexican border and 190km from Guatemala City, Quetzaltenango or Xela, as it is more commonly known, is surrounded by the spectacular mountains and volcanoes (some active) of the Western Highlands, giving it an altitude of 2,300 meters above sea level. Although the second biggest city in Guatemala, Xela is not considered a particularly fast-paced city, and its small centre offers our students everything that they need, including restaurants, cafes, bars and easy internet access.
Quetzaltenango is the native home of many different Indigenous Peoples, predominantly Quiche and Mam, who heavily populate the region today.
Despite what Xela has to offer the tourist, (volcanoes, hot springs, authentic markets and Mayan towns) it has not become a habitual destination for travellers, unlike other Guatemalan cities, such as Antigua or Panajachel. This is an advantage to our students, as they are unlikely to be met with English-speaking inhabitants and being obliged to use the Spanish language in every aspect of daily life, they will progress more quickly in their learning.