The Nursery Support Program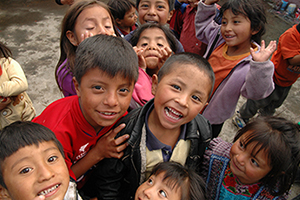 Background:
In 2001, INEPAS began to support various Community Nurseries (
Hogares Comunitarios
) in the region of Quetzaltenango. Today, INEPAS works with four
Hogares Comunitarios.
The majority of children in rural areas do not have access to primary education for economic reasons: it is not provided free of charge by the State. The Hogares Comunitarios came into existence as an affordable alternative to primary school and a place where children from one to seven years of age could be cared for during the day, while their parents were working.
Each Hogar Comunitario is located in a private rural home. In most cases, the mother of this home becomes the Primary Carer of the children. She is responsible for looking after 10-12 children from Monday to Friday. Although the government covers all running costs of the home (food, water, gas etc.), she receives very little salary for her work.
Objective:
To support the improvement of conditions in the Hogares Comunitarios.
Contents of Program:
INEPAS provides:
The professional advice of psychologists, social workers, doctors, education experts and solicitors.
Essential teaching and medical materials.
Volunteers to work in the Nurseries, for example as teachers, social workers or doctors.
INEPAS also arranges meetings and workshops for the parents of the children on the responsibilities of parenthood, covering issues such as good behaviour and the importance of hygiene.