The Education Support Program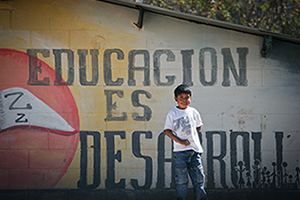 Background:
The Education Support Program was introduced in 1994, and is one of the main social aid programs of INEPAS. This program was created in light of the serious socio-economic limitations of the Guatemalan educational system, which cannot meet the basic educational needs of the population. Only 55% of children in Guatemala attend primary school of which only 19.5% go on to receive secondary education. Illiteracy in rural areas is still an overwhelming reality. Instead of continuing with their studies, a child of twelve usually begins a life of work, helping in the house or in the fields. Although many families would like their children to have an education, they simply cannot afford it: a child's income from labour is essential to the family's economy.
Objective:
To give educational support to children, teenagers and adults who are either having problems learning in school or have no access to education whatsoever.
Contents of Program:
The Education Support Program has carried out a variety of different activities and programs including: tutoring classes for children and teenagers with learning difficulties, a night school for teenagers who work during the day, and the initiation of a self-sustainable rural school in a Maya-K'iché community. Today, this program is divided into two on-going projects:
The Scholarship Project (2001):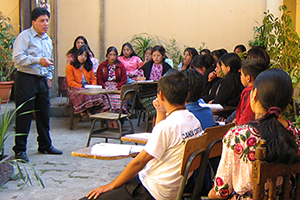 In an attempt to reduce the number of teenagers that either drop out of or do not attend school, INEPAS provides scholarships to selected students. Foreign citizens are invited to sponsor school students that come from families of scarce economical resources in the rural communities of Quetzaltenango. The sponsor´s financial contribution secures a teenager's secondary education or enables an older student to receive further education.
The role of INEPAS in this project is not limited to distributing sponsor money and maintaining contact between sponsor and student. INEPAS mentors the group of young people, complementing their education with workshops and activities which help them:
In their personal development, dealing with themes such as self-esteem. Some of these young people have suffered the abandonment of a father or mother, or have lived with the experience of domestic violence.
In their social behaviour, dealing with various themes.
In their studies, with workshops on motivation, spelling, reading, and themes of social, cultural and political interest.
Once a month, whole-day or whole-afternoon sessions are organized with the young people. These sessions are directed by María Antonieta, who is sometimes accompanied by national or international volunteers.

If you would like to sponsor a rural school student, your support would be greatly appreciated. Please go to the Donations page for full details about how to transfer sponsor money.

Please contact us if you would like more information on this project. We will try to answer your queries within 48 hours.

The Computer Laboratory Project (2002):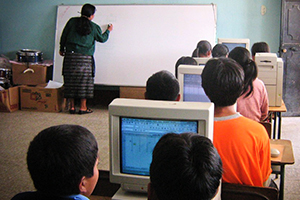 The most recent project of the Education Support Program was the implementation of 31 Computer Laboratories, located in 30 rural communities around Quetzaltenango. The installation of the Computer Laboratories was carried out in collaboration with a Non-Governmental Organization based in Oregon, USA called Compañeros en Solidaridad.
Each IT Lab has 30 to 35 computers, which are located in public rural schools. Since its beginning this program has benefited more than 6000 students.
The Computer Laboratory Project was created with 3 main objectives:
To facilitate the access to technology and training in the most important aspects of computing by the children and young people of rural areas, with the aim of closing the digital gap.

To use the laboratories to motivate students to attend school and learn, thus reducing the rates of school absenteeism and desertion.

To train teachers in technical maintenance of the hardware and provide working knowledge of the software.