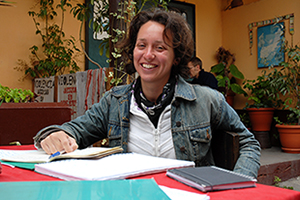 Study Levels for Everyone
INEPAS offers its students ten different study levels, ranging from Beginner through Intermediate to Advanced.
Each level requires one week to complete. However, taking into consideration that each student learns at their own rhythm and pace, at the conclusion of each week the student is evaluated by the teacher in order to determine whether or not they are ready to proceed to the next level. If not, the teacher will go over and reinforce the contents of the current level. Therefore, a student who wishes to complete the full course will require approximately ten weeks (studying five hours a day). However, the student is free to study as many weeks as he/she wishes.
To join the Beginner Level, no previous knowledge of the Spanish language is needed. For the Intermediate and Advanced Levels, an assessment exam (oral and written) is taken by each student in order to establish their level. Teaching time is divided into grammar, vocabulary, various language exercises, conversation and writing.
Once the student has completed their course, he or she takes a written and oral test to obtain an overall level. Each student is also given an official certificate from our school.
All of the Spanish classes are run on a one-to-one basis, starting at 8:00am and finishing at 1:00pm (five hours), with a half hour break between 10:30am and 11:00am.
INEPAS aims to keep the student with the same teacher week by week. This way the teacher knows exactly what areas to study and what the student needs to improve on. However, if a student wants to change his or her teacher for the following week, this is possible in consultation with the school's administration.