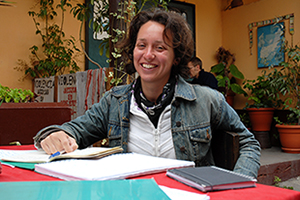 Study Levels for Everyone
INEPAS offers ten different study levels, ranging from Beginner to Advanced. Each level is designed and structured in a progressive system. To join the Beginner level, no previous knowledge of the Spanish language is needed. For the Intermediate or Advanced levels, the Beginner or Intermediate level must be previously approved through a placement test. Each level has its own evaluation which is optional.
The content of the program is varied, open and flexible, and the methodology adapts to the objectives, level of Spanish, rhythm and learning style of each student. Study hours are distributed between grammar teaching, oral and written exercises, conversations about daily life and discussions about social, political, economic and cultural reality of Guatemala and Latin America, always with emphasis on vocabulary and specialized expressions, according to the profession or interest of each student.
Each level takes a week of study for any student, which means that a Spanish student at INEPAS completes the entire course in an average of 10/12 weeks, studying 5 hours a day. However, it should be taken into account that each student learns at their own pace and speed. At all levels, personalized teaching is guaranteed and in a context that favors the exchange of cultures.
Obviously, the student is evaluated every week to verify if (s)he is able to advance to the immediate higher level or to make a previous reinforcement, which is done in common agreement with the student and the teacher.
Evaluations are realized through dynamic and creative dialogues, including reading comprehension, listening comprehension and expression and interaction activities (written and oral). Finalizing the course, students receive a DIPLOMA that accredits the Spanish level and the grammar content studied.
INEPAS aims to keep the student with the same teacher week by week. This way the teacher knows exactly what areas to study and what the student needs to improve on. However, if a student wants to change his or her teacher for the following week, this is possible in consultation with the administration.
Backed by more than 25 years of experience, INEPAS offers specific and specialized courses to satisfy communication needs of travelers, tourists, volunteers, retirees, entrepreneurs, diplomats, students and professionals of all degrees or professions.
Our content guide by grammar levels EQUIVALES the new level systems of the Common European Framework of Reference for Languages ​​(CEFR) and the curriculum of the Instituto Cervantes.
Reference levels
INEPAS
Common European Framework
of Reference for Languages (CEFR)
Beginner: I – II – III
A1 – A2
Intermediate: I – II – III
B1 – B2
Advanced: I – II – III – IV
C1 – C2